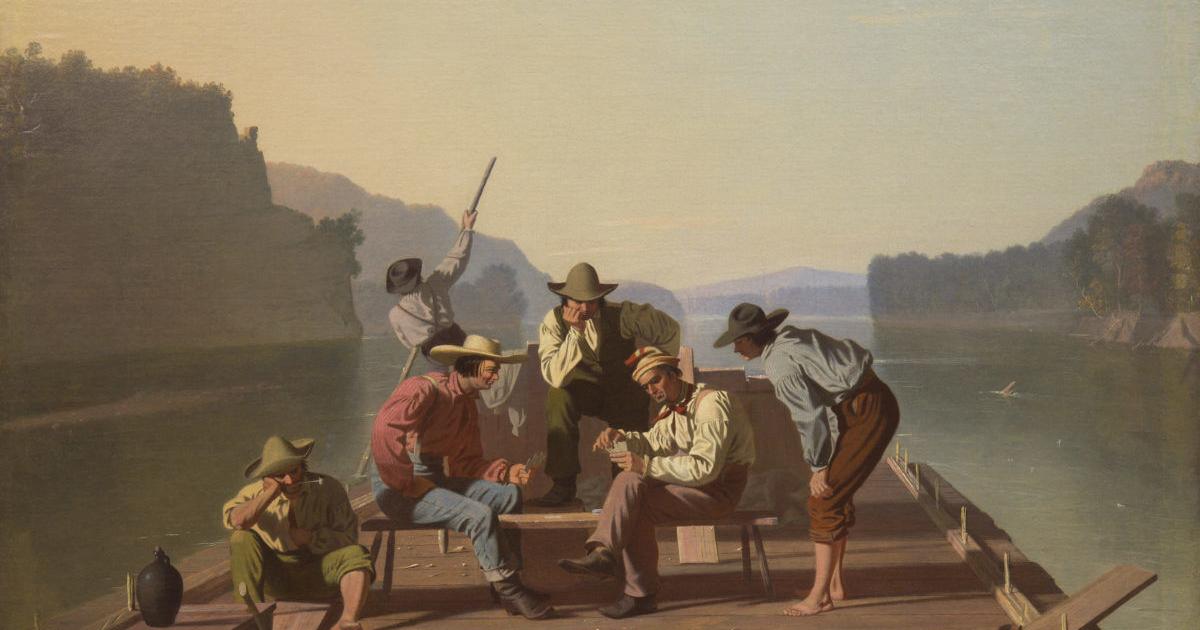 10 must-see pieces in "Art along the Rivers" at the St. Louis Art Museum | Arts and theater
A vibrant mix of artwork – from beautiful ceramics and glasses to quilts and crazy weathervanes – joins more traditional oil paintings from this region's great rivers in a bicentennial celebration at St. Louis Art Museum.
But the "Art Along the Rivers" exhibition goes far beyond the dusty portraits of founders and rulers to show the flow of movement to and from this region and the creative richness of the region:
• Western artists and photographers work with Native Americans, who also travel from the Plains to Washington, DC, and return to protest government contracts
• Artist colonies sprang up in Potosi, Cape Girardeau, University City and north of St. Louis, among others.
• Iron ore, clay and other local materials are used for terra cotta work, carvings and pipes made of corn on the cob. European immigrants adapted Missouri's resources to their own traditions, and more modern artists revised avant-garde ironwork.
• The Universal Exhibition brings in works of art from all over the country. Later, 21st century activists react to images of centuries-old fairs.
Melissa Wolfe, curator of American art for the museum, said the goal was to show "complex and sometimes competing artistic narratives that resulted from these powerful elements and the communities they attracted."
To do so, she and Amy Torbert, assistant curator of American art, and others traveled to dozens of regional venues in search of works, some never before exhibited in St. Louis, that conveyed an idea. of the region's cultural heritage. All of the 155 exhibits were made or collected near the confluence of rivers. The Conservatives went north to Hannibal, west to Hermann, and south to Cairo, Illinois.
In Hannibal, for example, they found a quilt made by a former slave woman, well used but saved for generations by the woman's descendants. In Hermann, a rooster weather vane made by a German immigrant surmounted the steeple of the city's first purpose-built church.
Only about a third of the objects in the exhibition belong to the art museum: the rest come from neighboring institutions, national or international. A buffalo skin robe, on which a warrior painted part of his life story, was on loan from a museum in Switzerland. An intricate wooden cabinet is borrowed from the American Folk Art Museum.
The exhibition is organized by theme, including objects on display at the 1904 World's Fair; goods, even guns, well known in the region; and art used for activism, from the 19th-century river paintings by George Caleb Bingham to the hands photographed by Damon Davis after the filming of Michael Brown in 2014.
"We didn't want to be limited by the Anglo definition of land or state," Wolfe said.
From earthy pewter to fine marble, the range of artwork, Torbert says, will likely leave visitors with a "sense of rapture or surprise."
What • "Art along the rivers"
When • Until January 9; opening hours are 10 a.m. to 5 p.m. Tuesday to Thursday and Saturday to Sunday 10 a.m. to 9 p.m. Friday (closed Monday)
Or • Saint-Louis Art Museum, 1 Fine Arts Drive, Forest Park
How much • $ 6 to $ 12; free for members, children under 5 and for everyone on Fridays; bicentennial half-price for adults from 12 to 14 Oct., from 9 to 11 Nov. and from 14 to 16 Dec.