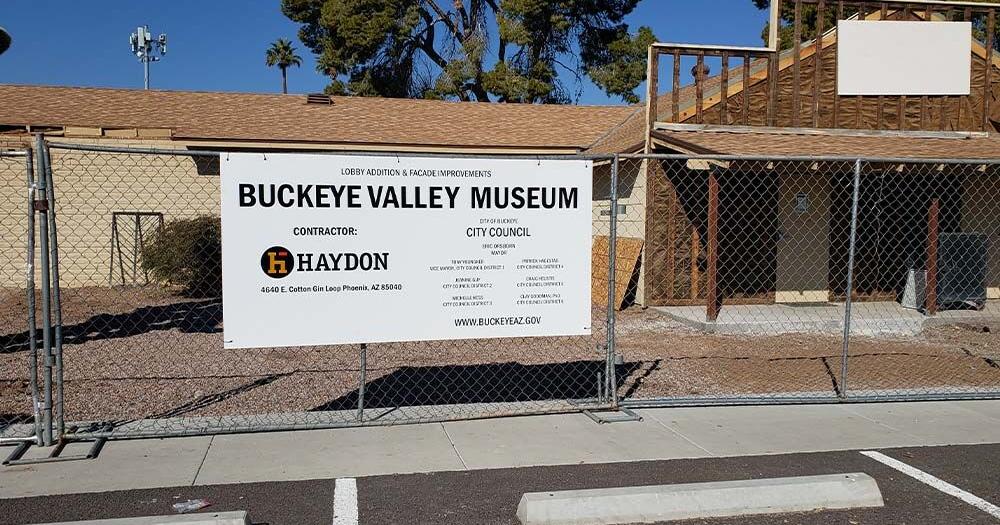 Buckeye Valley Museum will reopen this summer | News
After undergoing an interior renovation in 2015, the Buckeye Valley Museum is getting a facelift and will reopen this summer.
Fences surround the building at 116 E. MC 85 on the southeast corner of Town Park as construction began Jan. 3. To prepare, staff moved archival items and artifacts to the back of the museum for storage, photographs were removed, and areas were draped to add a level of protection against construction dust.
"Currently, the museum outside doesn't really reflect what you see inside. There is no indication. It's pretty simple," said Buckeye Library and Museum Trustee Chris Larson.
"We had this idea of ​​putting a facade on the facade of the museum to make it a bit more prominent so that it would stand out and draw a bit more attention to itself."
Larson said the museum team contacted the Buckeye Historical Society and pitched the project.
"They jumped on board with the idea," Larson said. "They had been fundraising for about five years and they raised $60,000 to complete the building plans. And then from there, the city took over the project and we are moving forward. We are hoping that maybe we can finish in April or May. We're adding a little hall and the facade to the front and just opening up some space inside and making it really inviting.
A lifelong Buckeye resident, Larson said she was delighted to see the museum receiving a much-needed and deserved exterior renovation.
"The purpose of our Buckeye Valley Museum is to tell the story of Buckeye, and it really starts with those early days of Buckeye, and here you can walk through and see how the town grew," Larson said.
"It really gives people a sense of this city they belong in now, and for me, I think what's so good is that we're growing so fast and everyone wants to know and be part of its community. The museum is the perfect place for a new resident to come and discover this place whose history you are now part of."
Since 1954, the museum has undergone various projects and renovations. Initially, the museum had a gallery room, with the facility's caretakers living on site.
Over the years, the historical society has added two large gallery rooms. Exhibition spaces have been remodeled and new exhibits have been created to breathe new life into the shared history. In 2007 the City of Buckeye took over operations and in 2014 crews remodeled the facility.
While Larson said the museum is an important part of the community, she said it has unfortunately been closed to the public since the pandemic began.
"When we're ready and we can reopen, we'll be shouting it from the rooftops because we've been closed since COVID started," Larson said.
"We are so excited to be able to reopen and have programs and share all of the amazing things that are part of Buckeye.
"When the city closed, we had staffing issues, so we chose not to reopen the museum yet. And then things started to move with this facade project. And we were just preparing to reopened for our new season last year but we decided to stop and do a grand reopening once we finish this build.It's been ages since we've had people at the museum.
The museum will open in a few months, and Larson looks forward to new residents of Buckeye discovering it.
"The museum has this unique opportunity to connect people with stories, and that's what we're trying to do, to bring the past to life and to preserve our local history so it can be passed on from generation to generation," Larson said. "They can always make connections in our museum, even if they've never lived here before. It's like finding something that you can relate to or remember where you came from and that can be part of your past, even in another place.
Build updates will be at buckeyeaz.gov/museum and facebook.com/buckeyevalleymuseum.