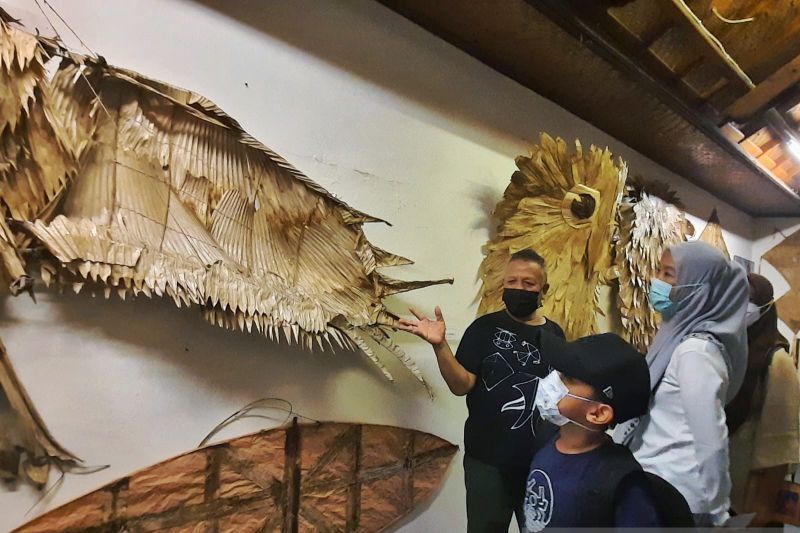 Let's explore the Kite Museum in South Jakarta
This kite museum also stores kites from abroad, such as Turkey, Netherlands, South Korea, Philippines, Cambodia, India, Japan, China, Thailand , Malaysia, Sri Lanka, Sweden and France.
Several tourist destinations offer a myriad of options for families and school children to spend their school holidays in the even semester of the 2021-2022 school year.
Apart from malls, which are very common, museums can also be a choice.
Jakarta is the city with the highest number of museums in Indonesia, reaching more than 70, which can be visited by the public, according to the official website of Statistics Indonesia (BPS).
By visiting museums, school children not only gain a plethora of benefits, such as learning agility and creativity, but they can also gain in-depth knowledge of history which can then be useful when learning. entering the new school year.
One of the many museums in Jakarta is the Layang-Layang Museum, or the Indonesia Kite Museum, located on H Kamang Street, Pondok Labu, South Jakarta. This museum offers several activities, such as painting and making kites, painting umbrellas, and observing the history of kites.
"I took the children to the kite museum because I wanted to give (them) a useful vacation. So when they start school they can tell their experiences," said Winda Surci, a resident. de Solo, who visited the museum on Thursday (June 30), said.
Related news: Switching off the lights simple, impacting the sustainability of the earth
The Kite Museum presents several types of kites originating from Indonesia and also from overseas.
By paying an entrance ticket of Rp 20,000 for children and Rp 25,000 for adult visitors, the museum will invite them to try new things that are not commonly done at home or at school.
"By paying tickets, visitors will be able to enjoy three activities: first, it is to watch a historical film about kites; then there is a visit to the museum to learn more about kites, and finally, they will learn how to make kites out of paper," explained kite museum tour guide Asep Irawan.
Paper kites can also be decorated and taken home.
Related News: MRT Jakarta, Private Sector Cooperates in Transport Integration
Inside the museum
The museum building, constructed with Balinese and Javanese architectural styles, stands on an area of ​​2,750 m². and is filled with several lush trees.
The relaxing atmosphere gives visitors the impression that they are not in the south of the capital, which is usually bustling.
The museum, which was inaugurated by the former Minister of Culture and Tourism, I Gede Ardhika, on March 21, 2003, made it the first kite museum in Indonesia.
"The presence of the kite museum aims to preserve the characteristics of Indonesian culture through the art of kite," Irawan noted.
Before it became a museum, the owner, Endang W. Puspoyo, initially focused on the beauty industry sector.
At first, Puspoyo opened a kite gallery, and she was quite fond and happy of the kite world.
In the 1990s, Puspoyo often invited kite artists from various regions to participate in festivals to bring the art of kites to life in Indonesia.
It was from these artists that Puspoyo obtained several kites, as those who came to the festival donated many of their works to display in the museum and some even sold their works after the festival was over.
"During the festival, not all the kites were taken home, as some were sold for the (artists') return fare, and some were given away for display in the gallery," said notice Iraqan.
"As the number of kites (donated to the museum) increased, Puspoyo then had the idea to open this museum," he added.
Related News: Anies hosts Mayor of London to explore green investments
Variety of kites
The Indonesia Kite Museum not only stores works by artists from all parts of Indonesia, but there are several kites from artists around the world in this pendhapa-shaped building.
This pendhapa, or pavilion, houses unique kites from the smallest size measuring two centimeters to the largest reaching 5×3 meters (m).
"This museum also has a kite with a length of 100m, but it doesn't fit in the exhibit," Irawan said.
Irawan, who also works as a kite artist, explained that this museum has a large collection of kites as souvenirs when visiting kite festivals abroad.
"Usually if we go or they come here, some are also donated to the museum," he said.
The wooden-floored museum building exhibits at least 20 collections of kites from foreign countries.
Related news: Term ends soon, but performance won't falter: Jakarta Governor
Irawan said the presentation aims to highlight that kites are not only popular in Indonesia but also in the global community.
"This kite museum also stores kites from abroad, such as Turkey, Netherlands, South Korea, Philippines, Cambodia, India, Japan, China, Thailand , Malaysia, Sri Lanka, Sweden and France," he said.
Additionally, the museum has a replica of Indonesia's first kite. In the past, Irawan explained, kites were made of natural materials, such as kolope (tuber) leaves. The shape of the kite was diamond shaped and originated from the Muna Island area of ​​Southeast Sulawesi.
The kites took three to seven days to make and they are used by ancient humans to seek God.
"The earliest history (of kites is) in Indonesia. There is even research that (claims) that this kite is the first in the world. There is only the replica here. Historically, ancient humans flew the kite to seek God, but they failed to find (God)," he said.
Related News: Bid to attract more Japanese investment to Indonesia
Related News: Jokowi meets UAE President at Al Shatie Palace