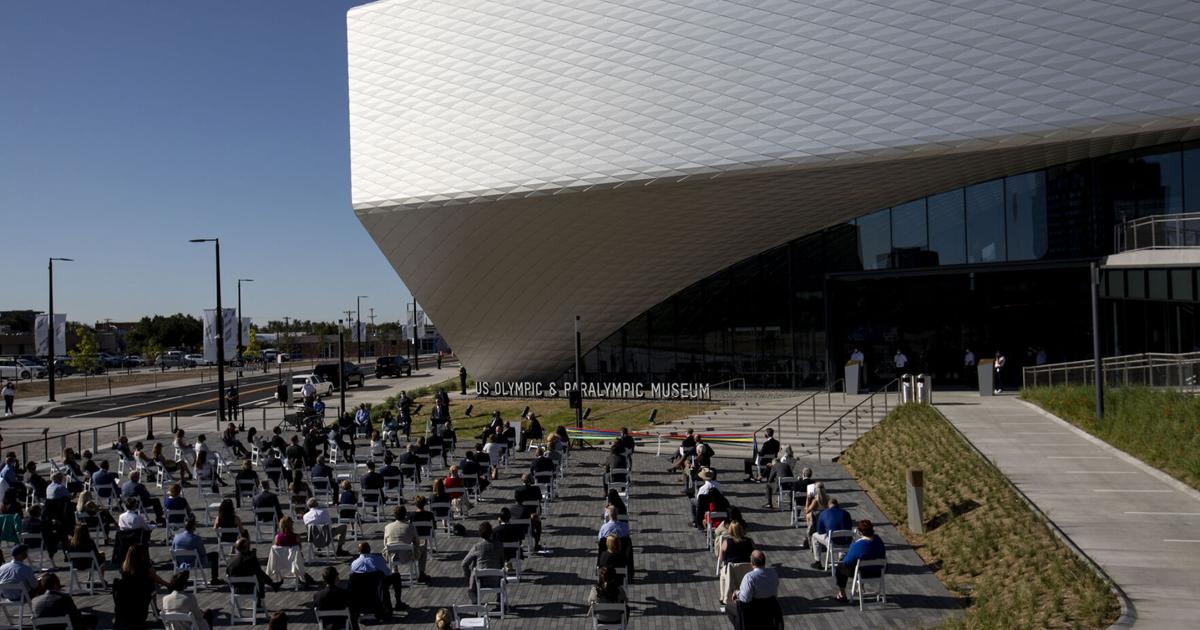 LETTERS: The museum is not Disney World; solved the problem | Opinion
The museum is not Disney World
In response to Connor Finley's December 28 letter regarding his visit to the United States Olympic and Paralympic Museum, I would like to respond.
Mr. Finley, I don't think I know you, but if I did, we might be friends. And as a friend, I should tell you how narrow your take on your visit to this wonderful local attraction was.
What I learned from your letter is that you don't like spending money on parking; the "games", as you call them, did not live up to your expectations; and touch screens required you to read 2-3 sentences instead of watching a video. Oh, and the exterior signs asking that no skateboards be practiced on sidewalks (so as not to destroy property or run over customers) was contrary to what you thought was more appropriate.
Having visited the museum three times myself so far, and from what you have written I wonder if your experience could have been any different if first you had parked on the street where you are paying a meter per hour (much less than the $ 39 you ended up paying). Second, if you had read one of the 2-3 sentence descriptions next to one of the beautiful photographs depicting the hundreds of athlete experiences, you might have been inspired instead of so disappointed with "clumsy and banal" virtual tests. After all, it's not Disney World.
A quote from one of the exhibits expresses the theme of the museum: "Everything about the Olympics is great, especially its values ​​and ideals. The Games bring the world together and reflect a vision of peace, equality, excellence and, above all, the joy of participating.
As the games progressed, their scope widened, both in terms of geography and idealism. And more than all athletics and spectacle, the Olympics produce a spectacularly human feeling. As figure skater Scott Hamilton said: "Most other competitions are individual achievements, but the Olympics are something that belongs to everyone."
I could go on and mention all the things I learned from my visits. I look forward to a fourth visit so that I can read more of the 2-3 sentence accounts of those who have experienced the joy of participating in the Games.
Joan nusbaum
Colorado springs
Absolutely nailed the problem
Thank you for publishing Glenn Loury's article in the Sunday Gazette as part of the Benson Center Lecture Series at the University of Colorado at Boulder. This black professor fully understood the black problem in America and its solution. His last paragraph says it better than anything I could do. Here it is again:
"So here is my last unspeakable truth, which I now speak in defiance of 'culture cancellation'. If we black people want to walk with dignity, if we want to be truly equal, then we have to realize that whites cannot give us equality. We actually need to earn equal status. Please don't cancel me just yet because I'm on the black side here. But I feel obliged to point out that equality of dignity, equality of status, equality of honor, equality of security in one's position in society, equality of being able to impose respect for others – it is not something that can just be passed on. Rather, it is something to be wrenched from a cruel and indifferent world with hard, bare-handed work, inspired by the example of our enslaved and newly liberated ancestors. We must make each other equal. No one can do it for us.
Erik Lessing
Monument
The "left madness" continues
The left-wing madness continued in December with the guilty verdict of Jussie Smollett, who created and practiced the hate crime hoax that two guys wearing MAGA hats attacked him and tied him in a noose around the neck.
Let's not forget Joe Biden and Kamala Harris' rush to judgment bolstering Smollett's hate crime hoax while almost simultaneously calling Kyle Rittenhouse a "white supremacist" for his innocent acts of self-defense.
Then Chicago State Attorney Kim Foxx tried to cover up Smollett's crime and not charge him by telling Smollett's sister, "Your brother should be fine as long as he stays consistent." just before a retired judge successfully files the petition as a private citizen to have a special prosecutor assigned to the case. It is shameful how these Democrats try so hard to create lies, divide America on race, and then attempt to cover up their own crimes.
Speaking of tampering with evidence, the Jan.6 committee now admits Congressman Adam Schiff forged text messages and even displayed them onscreen during his statement to create the illusion that councilors and lawmakers of Donald Trump colluded with those in the so-called insurgency on Capitol Hill. . No media outlet wants to mention Antifa organizer John Sullivan, who colluded with CNN in the planned riot on Capitol Hill or the 534 nationwide Antifa riots in 2020. Schiff should be thrown in jail with the rioters of Antifa.
Two Democrats who pushed for "Defund the Police" – one is robbed at gunpoint in Pennsylvania while the other is hijacked in Illinois. And what did they do afterwards? Yes, they called the police they want to reimburse. If you are a Democrat who wants to fund the police, please do not call the police. They are necessary for Americans who appreciate our police officers.
Oh, and by the way, the Chicago Dem's husband had a gun and used it during the hijacking. Amazing how the same Democrats, who want to ban guns and fund citizen policing, use them for themselves.
A Democratic rights group wants more female models for "greater equality" in model testing, claiming the models are male-dominated.
If you didn't know any of these stories, there's a good chance you're watching "fake news" and that's just part of the left-wing madness for December 2021.
Franck Aquila
Colorado springs