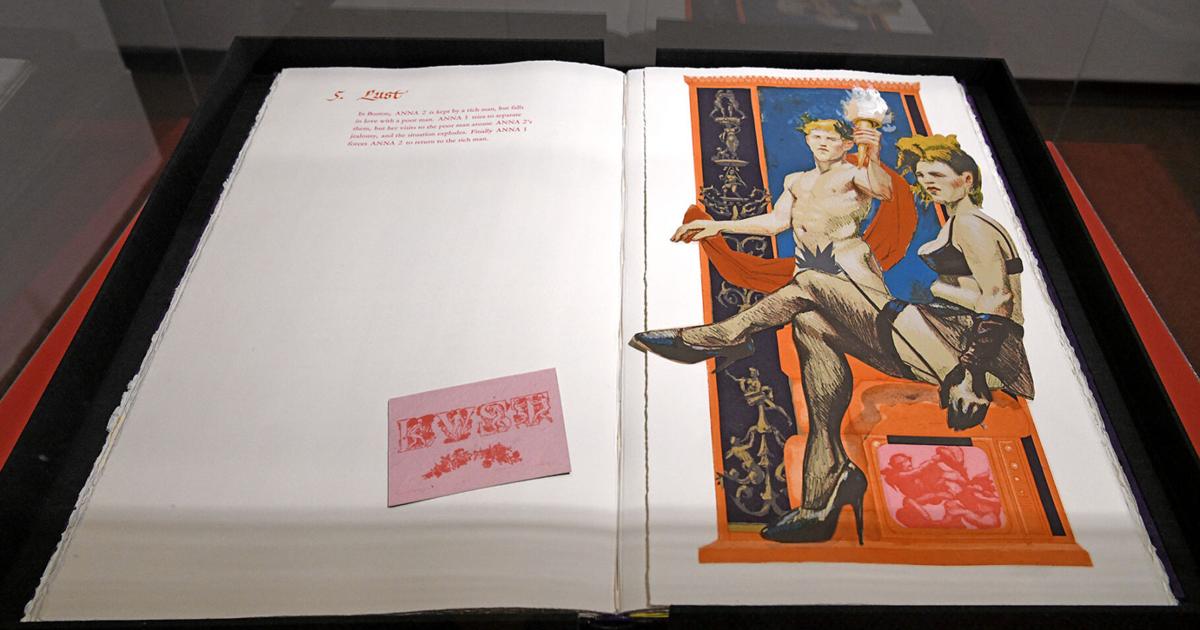 See a museum's art book exhibition, page by page, online | Arts & Theater
It's hard to judge a book by a double page spread. This is where the virtual tour Between.
If you stopped by the Montana Museum of Art & Culture's new exhibit, "Bookish: Selections by Dan Weinberg Collection," you're probably dying to turn some pages. The Meloy Gallery is filled with art books – collaborative works with contributions from artists, authors and bookmakers – safely locked away under glass.
A James Joyce fan might want to see more "Brideship and Gulls." An excerpt from "Finnegans Wake" is printed in a handcrafted book, along with etchings, watercolors and calligraphy, all packaged in a custom-decorated box. Another, "The Seven Deadly Sins of the Petty Bourgeoisie," adapts Kurt Weill's latest collaboration with Bertolt Brecht with collages, etchings and watercolors by an entire team.
To give you a look at each title, MMAC reached out to videographer Eileen Rafferty, and they recorded page-by-page explorations of the entire exhibit for you to explore online.
"Interestingly enough, it makes sense with or without the pandemic," MMAC manager Rafael Chacon said. "Because these are all books, which let's imagine when there was no pandemic, you would just see open items at a certain page under glass. And the virtual tour gives you the opportunity to see more.
Since the exhibit opened, MMAC has released videos in a series called "Bookish Reveals," where scholars give you insight into particular titles. For example, one book is a collaboration between composer Virgil Thompson and his partner, artist Maurice Grosser. Over the decades, the two would create dual portraits of individuals, some famous, some ordinary. Thompson wrote a musical sketch, Grosser drew one. To give more insight, MMAC asked University of Montana cello professor Adam Collins to give a virtual tour.
About these books. These are limited edition titles in a French collaborative ("artist's book") tradition that were published by Vincent FitzGerald & Co. of New York.
Chacon said you can think of them as part of a spectrum. In the middle are hardcover books – with authors, cover artists, and book designers all creating something nice to look at. And then there are those books, where "talented artists on all fronts are working on a very, very small, limited-edition book." They could have created a series of 100, often much less.
In some cases, FitzGerald would hire artists and bookmakers to respond to an existing text, such as James Joyce. Another title combines Kafka's unpublished writings with photoengraving.
The MMAC displays them through a connection in the original state. One of FitzGerald's friends, Dan Weinberg, collected almost all of his books. A retired clinical psychologist, he served as a state senator based in Whitefish, founded the Montana Innocence Project, and donated the titles to MMAC's permanent collection.
Chacon and company scoured the many titles to find some for the show, likening some of them to interactive sculptures that push the boundaries of bookmaking.
Take "Fragments of Light," a poem by poet Rumi, translated by Zahra Partovi. Artist Linda Schrank has designed a sculpture inspired by a Chinese style of bookbinding. Each calligraphic line of the poem was engraved on a Plexiglas slate sewn together in vertical rows that extend in four directions. Displayed in the gallery, it looks like a trophy. In the video you can see how it works.
"The whole thing folds into a small, inconspicuous box," he said.