The largest scroll painting of the Father of the Nation on display at the National Museum
The Honorable Prime Minister Sheikh Hasina attended the program virtually. Photo: Courtesy of National Museum of Bangladesh
">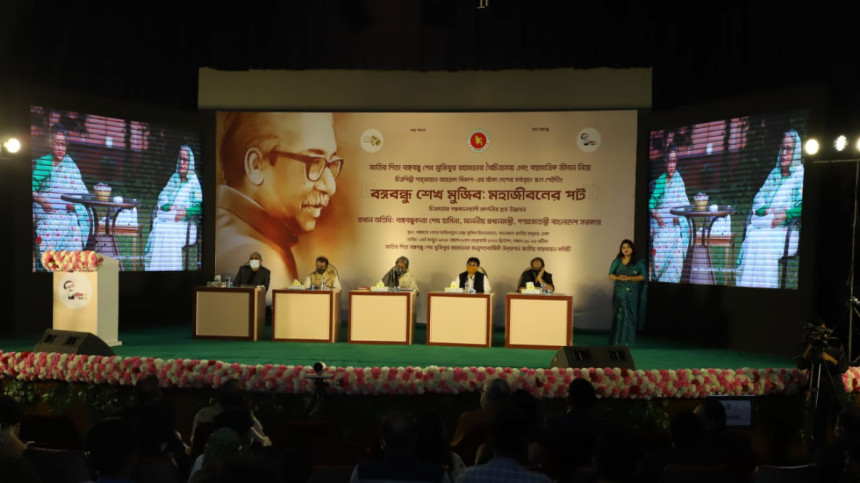 The Honorable Prime Minister Sheikh Hasina attended the program virtually. Photo: Courtesy of National Museum of Bangladesh
To commemorate the celebration of the centenary of the birth of the father of the nation Bangabandhu Sheikh Mujibur Rahman, the advertising agency Mattra organized the event, "Bangabandhu Sheikh Mujib: Mohajibon Path", featuring the world's largest scroll painting. father of the nation, by the famous artist Shahjahan Ahmed Bikash.
As the chief guest, Honorable Prime Minister Sheikh Hasina virtually opened the event yesterday at the Bangamata Begum Fazilatunnesa Mujib Auditorium of the National Museum.
The work will be on display at the museum until May 18.
The program was also attended by Minister of Education, Dr. Dipu Moni, Father of the Nation Bangabandhu Sheikh Mujibur Rahman Birth Centenary Celebration, Chief Coordinator of the National Implementation Committee, Dr. Kamal Abdul Naser Chowdhury, and the President of Bangladesh Charushilpi Sangsad, Professor Jamal Uddin Ahmed. , among others.
Beginning with melodious songs based on Bangabandhu Sheikh Mujibur Rahman's birthday, a video of the 150-foot-long painting, 'Bangabandhu Sheikh Mujib: Mohajibon Path' in progress, was screened.
Painted in oil color, Shahjahan Ahmed Bikash worked on the artwork between March 17, 2020 and May 18, 2021.
"I tried to express how I accepted Bangabandhu in my heart through my painting," said Shahjahan Ahmed Bikash. "One day when we are no more, this painting will become a mark of our history for future generations. That's why I tried to make it as durable as possible."
"Just looking at the painting, one can tell how much Bikash loves Bangabandhu," said renowned artist Shahabuddin Ahmed. "This painting embodies our history in itself as evidence of the past. It goes without saying that Bikash put an immense amount of effort and heart into the painting."
"I have completed 143 feet of painting and another 7 feet are still being drawn," Shahjahan Ahmed Bikash revealed. "When the painting is complete, it will represent Bangladesh's 50 years of freedom and history."
At the end of the video came a short speech by Dr. Kamal Abdul Naser Chowdhury. "During the liberation war, artists also stood alongside Bangabandhu alongside students," said Dr. Kamal Abdul Naser Chowdhury. "Bangabandhu is our source of inspiration for our local and traditional artwork."
Renowned artists Afzal Hossain, Jamal Uddin Ahmed, Shahjahan Ahmed Bikash and Minister of Education Dipu Moni also expressed their thoughts during the event.
Towards the end, the Prime Minister shared a few words. "I can't imagine the love and devotion to the Father of the Nation needed to create such a work of art," she said.
"My father sacrificed his whole life for Bangladesh, to reward a better life for everyone. "Above his own life, opportunities and family, he put the nation first."
"There were many malicious attempts to erase his name from the annals of history, whether before liberation or after, but artists have made Bangabandhu immortal in their poems, songs, stories and artworks", she concluded.